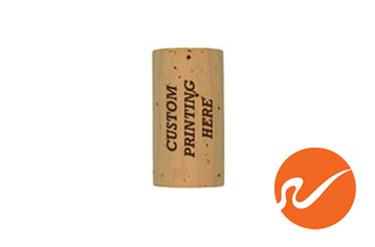 Description
How to order

IMPORTANT: MINIMUM ORDER QUANTITY 1,000
1.  Enter the quantity of wine corks above and checkout. Our minimum order to print is 1000 corks (if you need a smaller quantity, we offer standard wine corks
 with printed grapes).
2.  After we receive your order, we will immediately email you to collaborate on your design. We can incorporate your text, logos or images, and you approve the final design.
3.  Production lead time is about 4-6 weeks. Free shipping on qualifying orders.
About these wine corks
Natural "Flor" Wine Corks
are natural wine corks intended for wine storage of 12 or more years. Natural wine corks are punched from cork oak bark harvested once every 9 years, then dried for up to 2 more years. The wine corks are punched from the cork oak bark and then sorted by quality; the fewer the lenticels (crevise like imperfections) the better the wine cork. "Flor" is considered the highest quality-grade natural wine cork.
Made from 100% natural cork harvested in Portugal. All corks are TCA treated, carefully handled and ready for bottling. Orders are packaged in S02 gas to preserve freshness.
This wine cork will compress to fit standard wine bottles - corker is required. We recommend a floor corker or better.
Payment & Security
Your payment information is processed securely. We do not store credit card details nor have access to your credit card information.