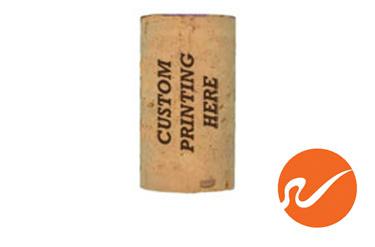 Description
How to order

IMPORTANT: MINIMUM ORDER QUANTITY 1,000

1.  Enter the quantity of wine corks above and checkout. Our minimum order to print is 1000 corks (if you need a smaller quantity, we offer standard wine corks with printed grapes).

2.  After we receive your order, we will immediately email you to collaborate on your design. We can incorporate your text, logos or images, and you approve the final design.

3.  Production lead time is about 4-6 weeks. Free shipping on qualifying orders.

About these wine corks

1+1 Wine Corks are intended for wine storage of up to 4 years. The wine corks are our best selling wine corks in the USA. 1+1 Wine Corks are a combination of an agglomerated cork base with whole cork ends. Made from natural cork harvested in Portugal. Large orders are packaged in S02 packaging. This wine cork will compress to fit standard wine bottles - corker is required. We recommend a floor corker or better.

Payment & Security
Your payment information is processed securely. We do not store credit card details nor have access to your credit card information.